Introduction to Skype for Business
What is Microsoft Skype for Business?
Skype for Business (also known as SFB, Skype4B, SfB, or S4B), formerly known as Microsoft Lync Server, is a unified communications and collaboration (UC&C) platform that brings different channels of enterprise business communication and online meetings together, including instant messaging (IM), presence status, voice over IP (VoIP), video conferencing, file transfers, desktop sharing, and web conferencing.
Microsoft Skype for Business is an instant messaging client with audio and video capabilities in addition to screen sharing and content sharing that is available as a desktop client or mobile app for iOS and Android devices. It is available either with the Skype for Business on-premises Server or as part of cloud subscription-based Office 365 as Skype for Business Online. Microsoft announced that Skype for Business would replace Lync in 2014 and the first version of Skype for Business server was the Skype for Business server 2015.
Skype for Business allows you add up to 250 people to an online meeting, provides enterprise-grade security, lets you to manage employee accounts, and is integrated into Microsoft Office apps. It costs $2 per month, per user for the Skype for Business Online.
The basic features of Skype for Business include:
Instant messaging
Audio call using VoIP
Video calls/video conferencing
Skype for business contacts in the client contact list
Whiteboarding
Sharing PowerPoint presentations
Polling

screen and app sharing within a communications session

Federation
File sharing
Online Meetings
Phone system
Skype meeting broadcast
Skype for Business has become the market leader for Unified Communications and Collaboration software since it was introduced to the market after the rebranding of Microsoft Lync. Since 2015, Skype for Business is the defacto app for over %55 of global enterprise companies and small and midsize businesses that use it for their day to day communications including conference calls and video conferencing. Skype for Business also acts as a replacement for PBX and phone systems and can save organizations thousands of dollars on their communication bill every year.
The Business case for Skype for Business in the Meeting Room
What is Skype for Business Video Conferencing?
Skype for Business video conferencing is being used by Skype users to connect with each other using their Skype for Business client on a PC, laptop, or smartphone using a webcam or smartphone camera to start video conference calls. Those calls can be one-to-one or multiparty video conference calls with up to 5 simultaneous video streams or thumbnails. But Skype for Business video conferencing goes beyond the desktop or mobile user. This article focuses more on group Skype for Business video conferencing for conference rooms, meetings rooms, and huddle rooms.
Why is Skype for Business used for Video Conferencing?
Skype for Business video conferencing offers full HD quality video conferencing for any organization with a deployment of Skype for Business. Users can easily setup a video conference call or a Skype for Business online meeting using Microsoft exchange outlook calendar. Users will join the video conference call and can turn on video easily if they are using a camera. Video conferencing with Skype for business offers organizations many benefits like reducing travel costs and connecting remote teams with each other to improve team communication and productivity.
Each user uses Skype for Business daily to chat with other contacts at the organization and make audio and video calls. It is also being used by organizations with multiple offices in different locations. Another common Skype for Business video conferencing use is video interviews and its use by educational organizations to enable distance learning. Skype for Business is also being used for people who work in their home offices and in telemedicine.

But to better answer this question, we must think about why is Skype for Business being used for video conferencing in meeting rooms? Organizations spend millions of dollars each year on UC communication and collaboration software in order to connect their workforce and improve productivity. A platform like Skype for Business helps organizations achieve this goal but they face a major problem.
After users adopt Skype for Business and start using it for their daily communications, they go to meeting rooms and find completely different systems with different user interfaces which affects productivity because they cannot use these conference room systems easily as they would with point-to-point desktop video conferencing. Here is where Skype for Business video conferencing comes in play, and organizations quickly realized that they must figure out a way to bring Skype for business to the meeting room. When Skype for Business is in the meeting room, it bridges conference rooms to desktop users and other conference rooms in the organization and truly unifies the company's unified communications investments.
How is Skype for Business used in Video Conferencing?
One of the greatest aspects about Skype for business video conferencing is its ease of use and simplicity. Each user would have his own Skype for business account which is tied to a Microsoft Exchange account as well. For most organizations, Skype and Exchange accounts use the same SIP or user address. In many cases, this is the same address you use for your email and for your Windows user account. On the Skype for Business client either for PC or mobile, you will be able to browse a list of contacts. Select a contact and easily start a video call by clicking the video call button.

The same process applies if you are using the Skype for Business mobile app. You can also use Skype for Business video conferencing during an online Skype meeting or conference call by enabling or starting your video during the meeting or conference. This ease of use and simple experience should also be brought to the meeting room to enable meeting room users and attendees to use Skype for Business client or experience that is optimized for meeting room use cases and not have to use the meeting room PC or laptop to fire up the Skype for Business client and use it in a conference room setting.
Skype for Business and Legacy Video Conferencing Systems
Legacy video telepresence systems and video conferencing systems use standards-based protocols to connect to each other and require complicated video infrastructure setup to run. They also require professional AV specialist installation and periodical maintenance. Legacy video conferencing works and offers high quality video conferencing but at a hefty price tag and the severe limitation of conferencing only with other systems that run the same protocol. They also work on room to room video calls and no room to desktop or mobile users. They require you to know the IP of the device you want to dial or call.
Here is where Skype for Business video conferencing comes to the rescue. Skype for Business video conference systems replace legacy system to truly unify the experience for end users and extend the Skype for Business deployment to meeting rooms to connect conference rooms with desktop and mobile users. When users come to the meeting room, they are able to experience the same familiar Skype for Business experience they are used to on their desktop Skype for Business application. This makes Skype for Business the better option for organizations looking to refresh their meeting rooms and connect their different, disparate systems.
Skype for Business Video Conferencing Hardware
What are Skype for Business Meeting Room Devices and Systems?
Based on our early explanation of Skype for Business and video conferencing and how it can be used in conference and meeting rooms, it is time to take a closer look at the meeting room and devices that make Skype for business video conferencing shine in the meeting rooms. Let's start by a brief history of meeting room hardware.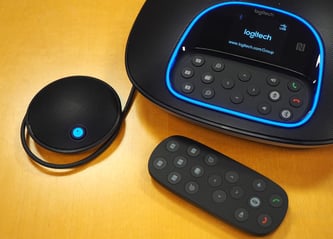 Legacy meeting room systems and devices were extremely expensive and hard to buy, we're talking $30,000 onward. They were bulky and connect to video codecs using highly specific and proprietary cables and connections. Each system would have to use its own components of the same brand and model. You must use the room system as is and you cannot customize it in any way. Fast forward to today, there are three things that changed meeting room devices and systems forever. Those are the mini form factor PC, the Cloud video conferencing apps, and the USB video conferencing devices like USB conference cameras, microphones, and speakerphones.
So a Skype for Business meeting room device or system is made of a mini PC that runs Windows and Skype Room System software, and a USB camera and audio device. Those devices range from $2,000 to $5,000 based on the meeting room budget and size. With all those things in place, you can easily build a Skype for Business meeting room system for about $3,000 to $4,000.
What is a Skype for Business Meeting Room Account?
A conference or meeting room that is powered by Skype for Business needs to have a unique Skype for Business identity to allow users to find and book the meeting room on the outlook calendar invitation. A unique room identity is established through a dedicated Skype for Business and Microsoft Exchange username and password that are used to login to Skype for Business from the meeting room.
Skype for Business Conference Room Cameras
The Skype for Business conference room camera is the cornerstone of the video conferencing experience. Legacy video conferencing systems used proprietary cameras that cost in excess of $5,000 and needed a connection to a specific video conferencing codec. The advent of USB and its universal application and adoption allowed camera manufacturers to produce video conferencing equipment that worked on all platforms, which increased its popularity, compatibility, and reduced price. The combination of these factors made USB conference room cameras and equipment mainstream. USB cameras paved the way for Skype for Business to the meeting room, enabling a true HD audio and video experience at a very reasonable price.
Skype Room Systems
What is a Skype Room System?
Skype Room Systems (SRS v2) bring video, audio and content sharing to the conference room. Microsoft's Skype Room Systems provide a complete Skype for Business meeting room environment that brings HD audio video experience to your meeting. A Skype Room System was a new generation of Skype meeting room devices that are dedicated and purpose-built for Skype for business video conferencing. It is the 2nd gen of the first Microsoft Lync Room System (SRS v1) that was launched in 2013 with SMART, Polycom, and Crestron.

There are a lot of differences between the Lync Room System and the Skype Room System when it comes to the software and hardware it runs. Skype Room Systems are built in partnership between Microsoft as the software developer and hardware manufacturers and partners who develop the Skype room system hardware. Skype Room System was a joint Microsoft-Logitech project code-named Project Rigel and was announced on stage at the Enterprise Connect 2016 event. The Logitech SmartDock was the first Skype Room System and later Microsoft announced more partnerships with Lenovo (Lenovo ThinkSmart Hub 500), Polycom (Polycom MSR Series), Crestron, and Yealink to develop different variations of Skype Room System that runs that same Skype Room System software app that is built by Microsoft.
What is a Skype Room System software or app?
The Skype Room Software app, also known as SRS, is the Microsoft software that runs on the Windows 10 Enterprise image that hosts the SRS app. This image is then burned on the Skype room system device from a hardware manufacturer like Logitech, Polycom, Crestron, Lenovo, Yealink, or HP. The Skype Room System software is developed and maintained by Microsoft and offers Skype for Business video conferencing features designed for the meeting room experience like one-tap to join meetings, PowerPoint presentations during online meetings, and the ability to dial phone and mobile numbers if enterprise voice is enabled. Skype Room Systems software is updated and patched by Microsoft but not frequently. Major updates take up to 6 months to a year to be available and minor update and bug fixes take about the same time.
How to Download Skype Room System?
Most commonly, Skype Room Systems are not supplied with software, requiring the user to download and install the SRS image (a 10GB+ download). The Logitech SmartDock for example would need a Surface Pro tablet in order to operate. If you buy the tablet separately, you will have to take care of the Windows Image and Skype Room System software installation on your own which will require a Skype Room System app download and will need you to follow a long list of instructions and steps to make sure you install the image correctly.
What is the problem with Skype Room Systems?
While Microsoft's Skype Room System provides a complete Skype for Business meeting room experience, it lacks many content sharing and collaboration features that users would expect to see in a conference room. Meeting and conference rooms are not always used for Skype for Business video conferencing and there are many times when teams meet to collaborate on an idea or project without the need to start conference calls with remote users. This is an area where Skype Room Systems lack the features that allow for a seamless collaboration experience away from Skype for Business itself. Collaboration apps and features like a dedicated whiteboard app, a web browser, USB content sharing, and annotations are missing on Skype Room Systems.
What are the best alternatives to Skype Room Systems?
Skype Room Systems are not the only solution in the market that would enable an organization to leverage its SFB deployment and extend it to the meeting room. There are several other solutions that offer SFB optimized experience for conference and meeting rooms with added features or capabilities that vary from one vendor to another. The alternative? A Skype for Business enabled meeting room.
Skype for Business Enabled Meeting Rooms
To extend Skype for Business to the meeting room, organizations that are not satisfied with Skype Room System look to other alternatives. This is where a new trend has emerged for DIY video conference rooms and that led to Skype enabled meeting rooms. A Skype enabled meeting room is a meeting room that is powered by Skype for Business as the meeting and conferencing platform and uses a mini form factor PC like the Intel NUC to run Skype for Business software and other components related to managing the meeting room experience.
An example of Skype meeting room solutions is Flipdock. Flipdock is a Skype for Business video conferencing system and content sharing and collaboration solution that natively integrates with Skype for business to bring an optimized Skype experience that goes beyond video communication and extends to content sharing and collaboration. As an alternative to Skype Room System, the Flipdock solution offers similar features when it comes to Skype Room Systems but surpasses it with its huge focus on the content sharing and collaboration aspects of the meeting room. Flipdock offers users the ability to connect their own devices, share files from USB storage devices, cloud drives, or shared network folders. In addition to sharing laptop screens with HDMI, and browsing, sharing, and annotating files, users can also use the built-in web browser to browse and annotate websites or use the whiteboard to sketch ideas and brainstorm in real-time. Users can also easily switch between multiple content stream and can transform a content sharing session to a conference call at any point in time. Moreover, Flipdock integrates with Microsoft Exchange calendar to enable one-tap to join meetings which makes room booking and scheduling very easy for end users.
Explore Flipdock features in detail
How are Skype Enabled Meeting Rooms Different from Skype Room Systems?
Skype enabled meeting rooms are totally different from skype room systems because:
They are updated more frequently than skype room systems which take 6-12 months to update.
They are easier to setup and install because they are plug-and-play and ship pre-configured.
They are not locked to specific types of AV peripherals and give organizations the freedom to use any device they have or customize meeting rooms based on their size and budget.
They offer the exact same Skype for Business experience and add more content sharing and collaboration features.
What are the Benefits of a Skype Enabled Meeting Room?
There are many benefits to Skype enabled meeting rooms:
They leverage existing investments in AV peripherals so you can use your own and not have to use new locked hardware.
They focus more on the content sharing and collaboration experience which ensures in-room meetings are collaborative and productive.
They get more frequent updates, bug fixes, and patches.
They listen more to customer feedback and implement more features faster.
They get much better support because they are built by companies that focus on a single product and specialize in the video conferencing market like Flipdock.
Ready to explore how Flipdock can transform your meeting room?
Share this article